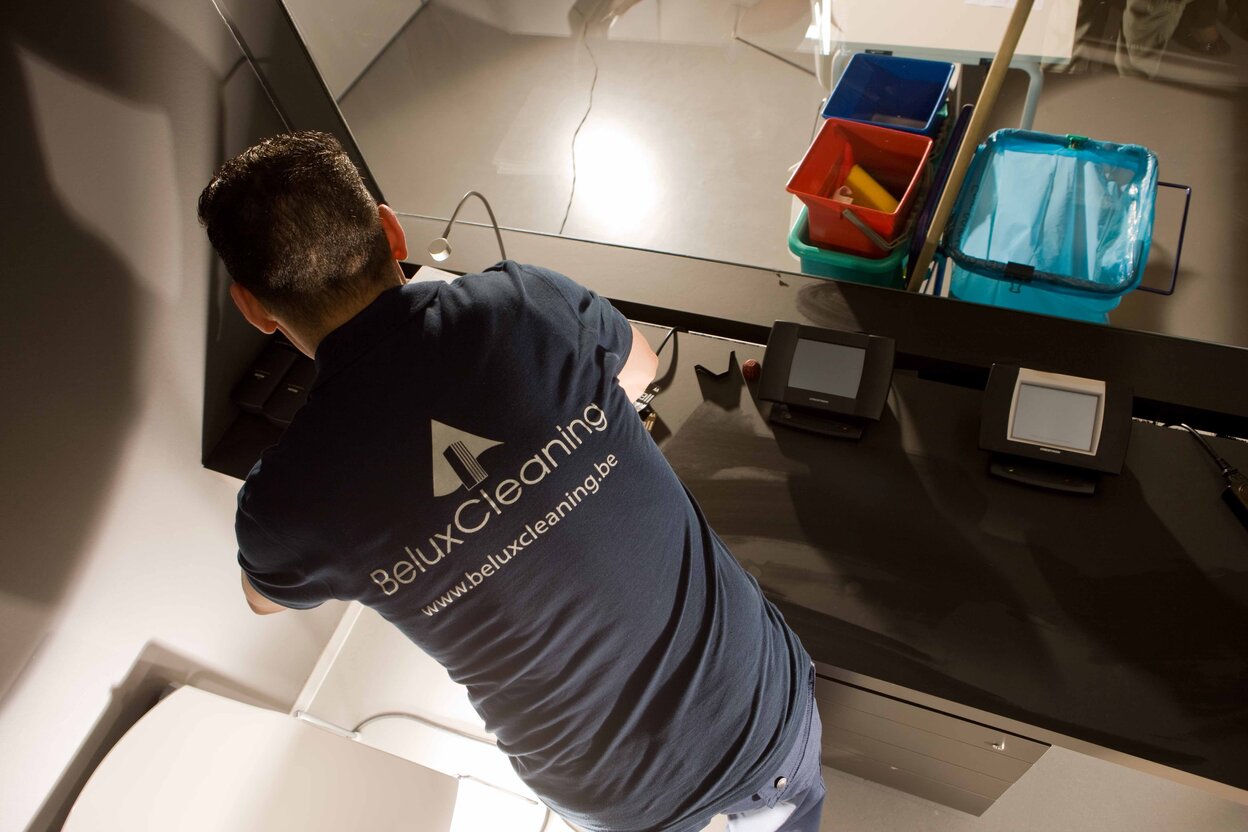 Cleaning of offices and professional premises in Brussels & Belgium
There's nothing better than starting the day at the office in a clean and hygienic environment, is there? After all, a clean workplace is not only an "interface" for your services and activities, but it also boosts the motivation and productivity of your employees.
Office cleaning is a type of preventive maintenance service that is generally reserved for business premises. It is a service that focuses on the cleaning of all work spaces in the tertiary sector, such as the premises of companies, SMEs or the professions.
Unlike other types of services, office cleaning protocol has the distinction of being very demanding. Indeed, since offices are a place of large gatherings, where the probability of close contact is increased, it is essential to carry out a thorough procedure.
Belux Cleaning; a high quality office cleaning service in Brussels
For more than 25 years, we have specialized in office cleaning, which we maintain using advanced techniques. The needs of our customers are different from each other and we are aware of this… That's why we offer customized cleaning solutions that meet your individual needs in the most comprehensive way possible.
In addition, our established status allows us to offer flexible contracts ranging from a few hours per week to daily cleaning regimes involving multiple cleaners for much larger organizations. Trust us and you will find your premises clean and tidy!
In which sector and how do we clean your offices?
We provide office cleaning services in a variety of areas such as:
Medical and legal offices

Banks and insurance companies
Our multi-faceted approach to cleaning offers our clients comprehensive services at attractive rates, with assured quality and excellent communication.
In addition, we are flexible in terms of schedules to best meet the needs of our customers. In most cases, in order not to disrupt the productivity of your staff, we ask our cleaners to work shifts. The cleaning teams will therefore have to work early in the morning, late at night and even on weekends. In the case of certain long and complex tasks, such as carpet shampooing, we make ourselves available to perform them during periods when the company is closed (for example, during annual vacations).
Office Cleaning | What is included in our services
As part of our office cleaning service, we provide the following services:
Vacuum all carpets and/or wash hardwood or tile floors

All accessible surfaces, including baseboards, chair rails and cornices, must be wiped down and/or dusted

Kitchen surfaces cleaned with environmentally friendly solutions and methods, dishes and appliances wiped clean

Bathrooms and toilets disinfected using sustainable products and methods

All bins emptied, liners replaced and waste disposed of in accordance with local authority guidelines

All accessible interior windows cleaned (our exterior window cleaning service is available for an additional fee, if desired)

Office equipment (telephones, computers, photocopiers, etc.) cleaned using appropriate solutions and methods
Request a free quote for office cleaning
Our team will be happy to discuss your needs. If you are looking for office cleaning services in the center of Brussels or in Belgium, contact us now and we will be happy to arrange an appointment.
After a quick visit of your offices and professional premises by a sales manager, you will receive a free and personalized estimate.
These specifications will detail all the services you wish to have performed by our teams. It is the guarantee of a result that meets your expectations.