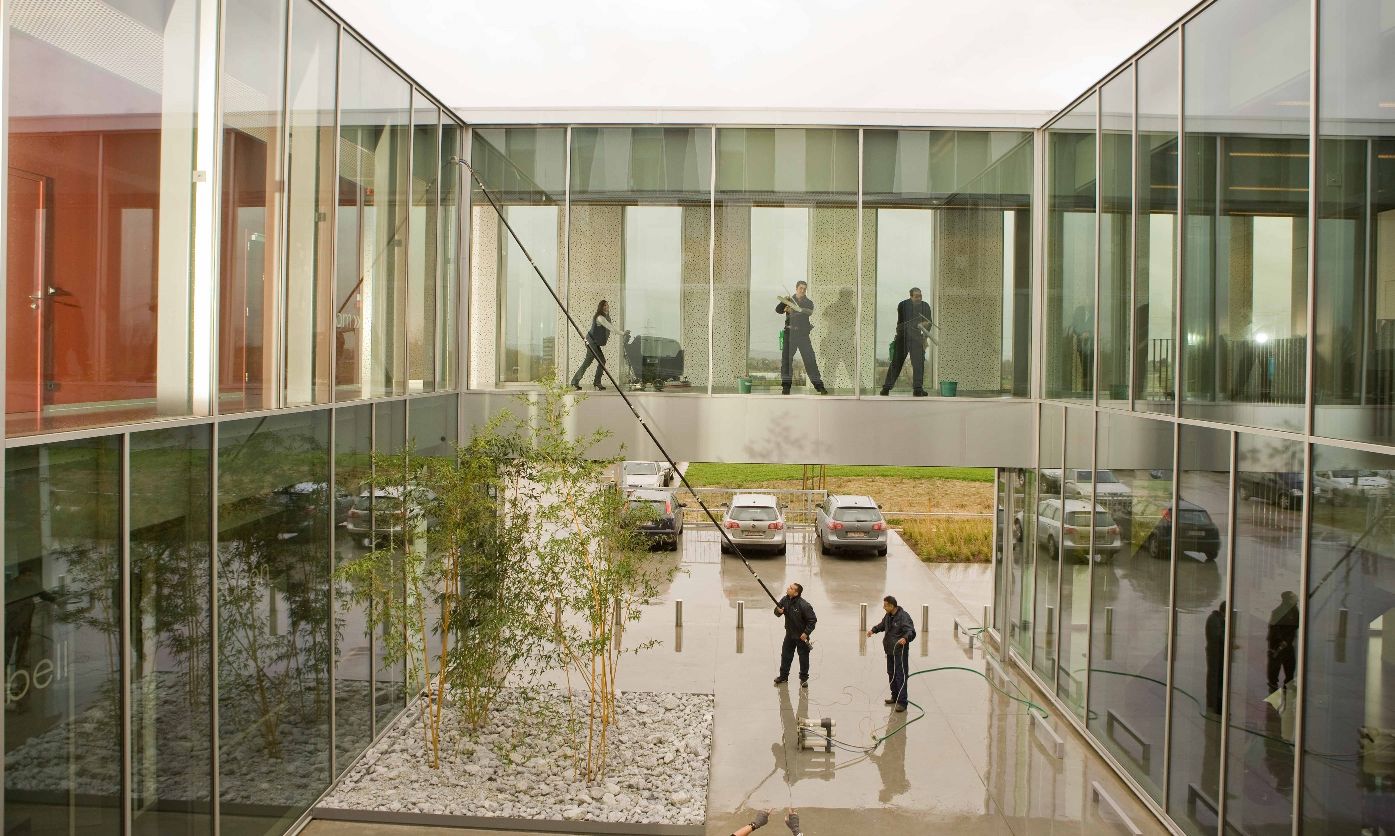 Window cleaning? A must for any organization!
Dirty windows are a sign of a neglected workplace. This can damage your company's reputation and image. Indeed, a shabby or even dirty façade and windows can repel customers and prospects. On the other hand, clean windows and a well-maintained facade enhance your building and, therefore, your reputation. Belux Cleaning makes sure that you always have the best view and that you are seen in the best light.
In addition to aesthetics, clean windows also let in more natural light, which improves staff comfort and can even reduce the need for artificial lighting.
Window cleaning in Brussels & Belgium : it's Belux Cleaning
Belux Cleaning makes your interior and exterior windows shine, whatever your industry. We intervene in private (companies) and public buildings, administrative offices, industrial premises, shopping centers, sports centers, schools, hospitals, showrooms, etc.
In addition, our services align with your specific health, safety and planning requirements. In fact, our dedicated window cleaners are available for one-time or periodic cleanings and are fully insured and professionally licensed.
In addition, window cleaning is a relatively physical and dangerous job. Technicians must juggle scaffolding and other lifting platforms. That is why Belux Cleaning employs specialized technicians who adhere to our three main principles: safety, quality and continuous training.
We are therefore able to provide specialized cleaning services for all types of glass, regardless of the height of your building:
Cleaning of window frames

Cleaning of illuminated signs and totems

Large window cleaning after construction

Cleaning of solar and photovoltaic panels
Cleaning of panoramic elevators

Facade cleaning & graffiti removal

Removal of limestone

Any cleaning at height with lifting equipment
Our solutions for window cleaning at height
We intervene on all types of windows, inside and outside, whatever the height of the building. Whatever the distance, we go to Luxembourg or any city in Belgium to make your windows shine(Brussels, Liege, Namur, Charleroi, Tournai, Mons, Hasselt, Ghent, Antwerp…). The Paradise Tower, for example, is a 118-meter building whose windows are periodically washed by our team of experts. This is just one of many references.
Our experienced window cleaners clean windows at heights using a variety of conventional and special lifting methods:
Aerial work platform

Suspended basket

Telescopic boom lift

Cleaning with life line and safety harness

Cleaning by osmosis water system
Why choose Belux Cleaning?
With over 25 years of experience, we GUARANTEE a clean and healthy work environment that helps reduce employee downtime and increase productivity, motivation and well-being at work.
Collaborating with Belux Cleaning for window cleaning is the guarantee of :
A reliable team

Efficient and ecological products

Professional equipment and lifting devices that comply with safety standards

Continuing education and VCA certification
Flexibility and permanent availability

Safety as a watchword

Company that listens to your needs

Reasonable and transparent prices